This new 3D ergonomic baby carrier was made using a modern technology to enhance comfort to baby and users (mother, fathers and so on).Unlike the traditional carriers with no hip seat causing back, shoulders and hip discomfort to users especially mothers; this baby carrier comes with a hip seat that can support the weight of baby and reduce the pressure on shoulder and back of mother and all other users.
Hip seat allows baby to be in a natural" sitting position at all times from baby to toddler.The hip seat is durable and with a non-slip leather to prevent baby from gliding.Open design of main body of the baby carrier can be disassembled according to requirement for all seasons.
Waistband and shoulder straps adjustable for multiple wearers from petite to larger body types.Breathable Mesh enables air circulation at the front of baby preventing overheating.Keep your baby close and secure while you go about your daily activities. Easy to put on and take off. Adjustable to fit and hold your child comfortably and securely
Brand Name: OurFirstStepsTogether
Age Range: 0-3 months
Age Range: 4-6 months
Age Range: 7-9 months
Age Range: 10-12 months
Age Range: 13-18 months
Material: COTTONLoad Bearing: 20KG
Type: Backpacks & CarriersPattern
Type: SolidCarriers Type: Front CarryCarriers
Type: Front FacingCarriers
Type: Face-to-FaceModel Number: A6612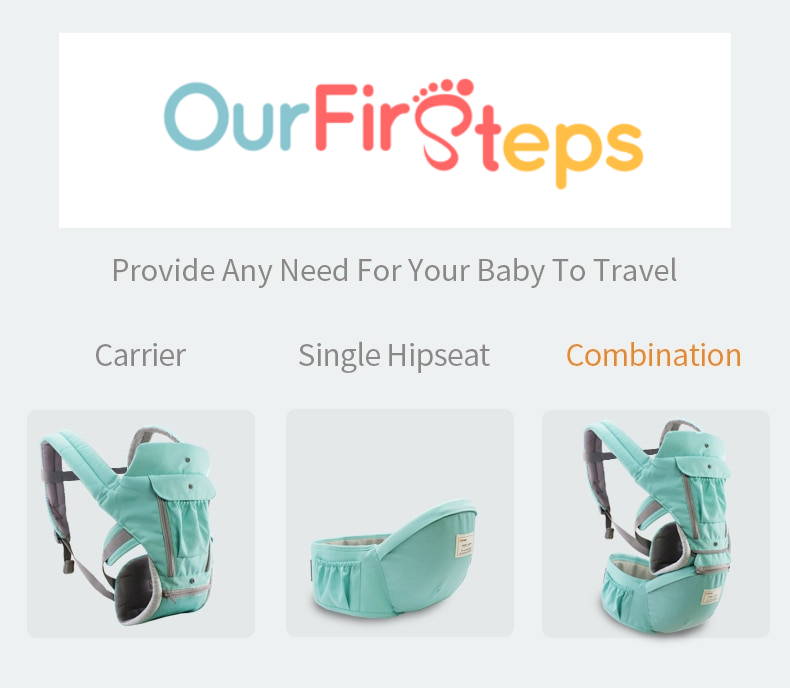 RETURN POLICY
Last updated November 16, 2019Thank you for your purchase. We hope you are happy with your purchase. However, if you are not completely satisfied with your purchase for any reason, you may return it to us for a full refund or an exchange. Please see below for more information on our return policy.
RETURNS
All returns must be postmarked within thirty (30) days of the purchase date. All returned items must be in new and unused condition, with all original tags and labels attached.
RETURN PROCESS
To return an item, please email customer service at ourfirststepstogether@gmail.com to obtain a Return Merchandise Authorization (RMA) number. After receiving a RMA number, place the item securely in its original packaging and include your proof of purchase, and mail your return to the following address:OurfirststepstogetherAttn: ReturnsRMA #16263 e princeton cirAURORA, CO 80013United StatesPlease note, you will be responsible for all return shipping charges.
We strongly recommend that you use a trackable method to mail your return.
REFUNDS
After receiving your return and inspecting the condition of your item, we will process your return or exchange. Please allow at least thirty (30) days from the receipt of your item to process your return or exchange.We will notify you by email when your return has been processed.EXCEPTIONSFor defective or damaged products, please contact us at the customer service number below to arrange a refund or exchange.QUESTIONSIf you have any questions concerning our return policy, please contact us at:ourfirststepstogether@gmail.com

You can write your custom liquid / html / javascript code here.
FOLLOW @Ourfirststepstogether